PROGRAM OVERVIEW
This is a 6-week, 4-module online course designed to teach professors how to create connection and contact within the online classroom as faculty are called upon to recognize and meet with the profound social problems we face, which produce anxiety, stress, and trauma. The course teaches professors to facilitate student engagement and connection in a time of collective trauma, so that students learn more deeply and effectively online and in-person and feel the value of their university education during this unique moment. We all know that the economic survival of universities during this transition depends on our ability to transmit the value and profound significance of education to our students. This course will facilitate professors, and their institutions, to do just that.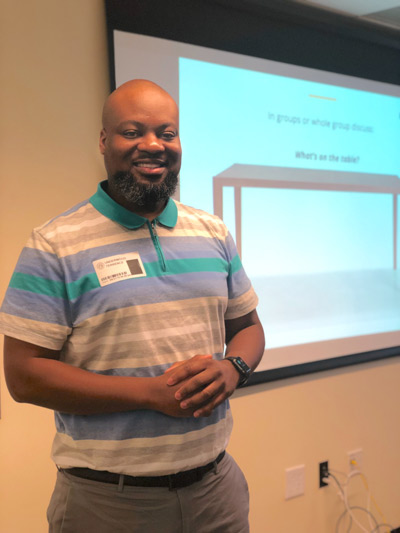 IN-DEPTH COURSE DESCRIPTION
This course engages professors with four online modules and is held for six consecutive weeks. Of course, professors can go at their own pace to suit their schedules and life circumstances.
Each module includes:
1 webinar per week that guide professors through each module and answer questions about their specific processes. Webinars are recorded for participants to view at their leisure.
Presentations that address health and paradigms for healing and transformation.
Recorded Guided Practices & Processes designed for calming the mind and nervous system.
Worksheets that help professors track their own progress and implement the skills and practices from the course into their classrooms.
Discussion boards to share participants' experiences, ask questions, and get direct feedback on specific issues and questions.
The webinar videos are roughly 60 minutes long and cover the material in the specific module.
Throughout each webinar, we share our teachings regarding the course material, lead practices, and provide facilitation for the specific needs of the professors who participate. This format provides professors with a unique opportunity to learn from the questions and experiences of other participants as they receive support and guidance.
In this course, Faculty will:
Develop effective tools and skills for connecting with their students and learning process in this new paradigm of online learning that we face during the pandemic.
Understand how the current political protests and the pandemic may be influencing their students' ability to focus, why online learning technology can amplify challenges to student attention, and what can be done to respond effectively.
Gain specific tools for addressing race and racialized trauma in the classroom.
Learn how trauma impacts learning and how it poses even more of a challenge in online classes; develop tools for addressing trauma and nervous system dysregulation.
Cultivate a learning environment in which students feel seen and heard in their learning process and develop skills for effectively engaging them when in-person classes are not possible.
Gain new skills for effective group teaching in an online platform so that professors can utilize group energy to create synergistic learning environments online.
Learn to assess and track whether students are learning effectively through a human-centered approach, which is crucial as we use more and more technology.
Develop nervous system regulation tools so that instead of feeling burned out from online teaching, professors feel effective, connected, and energized.
Module 1 – Coming into Your Body, Nervous System Regulation & Why it Matters
Learn fundamental tools for regulating your nervous system and bringing it to a settled state. Explore how these practices put us in a state that is responsive for learning and connection, whether we are working in person or online. Practice the skills of Slowing Down, Grounding, and Orienting, and receive tools for implementing these tools within your classroom and personal practice.
Module 2 – Nervous System Regulation: How Trauma Impacts Learning amidst Diversity
Learn how to recognize nervous system activation and overwhelm in yourself and in others. Receive support in building a relationship with the paradigm of Health experientially, Practice the skills of Naming, Inquiry, and Containment. Learn how to stay present with your own bodily experience as you learn, and to support this in others.
Module 3 – Moving from the Personal to the Social: Activation, the Feral Body, and the Practice of Contact
Practice the tools of regulation within a relational and societal context. Learn the practices of Contact and Recognition. Deepen your understanding of how to make attuned contact with yourself, with another, and with your class as a whole. Learn to recognize the subtle phenomena of activation and Health within a personal and group context, as well as within group fields.
Module 4 -The Social Nervous System, Double Binds & Repair
Learn powerful tools for navigating power dynamics and double binds as they manifest at the personal, societal, and transgenerational levels within your classrooms and life. Cultivate resources based on the Social Nervous System and Mirror Neuron System for working with these dynamics. Learn to work with intersectional oppression at an embodied level, including skills for making repair in the classroom when ruptures occur.
SCHEDULE AND PRICING
Embodying Your curriculum is a 6-week online course consisting of 4 modules. The course will take place three times during the 2021-22 academic year:
Fall: Dates TBD
Institutional investment:
Cost per person: $2,100
For institutions that send more than 20 professors, each professor beyond 20 professors receives a $350 discount of the cost of the course.
Institutions can also license the course for their entire faculty, please inquire for details.
Ongoing support and consulting for participating institutions:
Consulting with Angelica Singh or Anita Chari: $200/hour (discounted from $300)
Consulting with Dr. Elizabeth Anders (clinical psychologist and somatic practitioner on our faculty) $200/hour (discounted from $300)
Workshops:
Customized virtual Workshops with Angelica Singh and Anita Chari for groups at individual institutions:
3 hour workshop: $2,200
Please inquire for other workshop formats, we are happy to accommodate the needs of your group or institution.
"This course meets you where you are, doesn't assume any background, and takes you along a path to deepening your understanding of trauma informed pedagogy. Wherever you start, you will end in a new and better place."
-–Sarah Pruss, Professor
"I am incredibly grateful to have been able to participate in this workshop. It was eye-opening to learn about these tools and practices and I know this will impact the rest of my life."
-–Abril Navarro, Smith College
"This class connected me to my inner resilience ("Health"), which is a resource that will serve to liberate me for the rest of my life from the inherited traumas of our culture. As an educator, I view myself as serving the liberation of my students—and I can't do that until I am free. I am so thankful for the work of Anita Chari and Angelica Singh to put together this empowering and transformative curriculum."
-–Linda Vanasupa, Professor of Materials Engineering, Olin College